Award Winning
Leading open source Point Of Sale
X-Sector
---
More and more businesses across all sectors are seeking to become Brick & Click operations
uniCenta is committed to help those who want to prosper from combining
on-line & off-line opportunities
SELLING
Choose from a selection of Sales screens to suit your business
---
Sales Screen
uniCenta oPOS is renowned for the flexibility of its screen layouts. Button size, background, font and colour are all easily user customizable.
Highlights
Great on Windows Tablet
Fast Product lookup
Multi-level Category & sub-Categories
Auxiliary Products
Attributes / Modifiers
User access levels
more…
General
---
Single through to multi-terminal, multi-warehouse, multi-location installation. Multi database.
---
EAN, UPC & Code128 Barcodes
Sell by Weight/Price
Stock level indicator
---
Specialist
---
Amusement Park to Zoo Gift Shop. Vouchers and Coupons.
It's multi-lingual too.
---
Auxiliary Products
Modifiers
Layaways
---
Hospitality
---
Cafes, Bars, Restaurants.
Basics are more than well catered for. Including Reservations.
---
Kitchen Printing
Table Management
Split bills
---
We probably spent around 2 years in all looking for the right POS.  A list of 'must haves' and 'would be nice' was the basis when looking into other systems. What worked with one, didn't work with another or features which were available weren't compatible with the other. Eventually we found uniCenta oPOS and put it to work in our business.
It changed our lives!
MANAGING
Easy access administration to People, Product and Payments
---
Intuitive
Improved new look and feel carried through to Back End.
Includes new modules such as Suppliers and lots of enhancements to existing uniCenta oPOS forms.
More reports have been added and more Configuration options to provide greater control.
Highlights
Sales
Customers
Suppliers
Stock
40+ Quality Reports
Central Management
more…
CHOOSE YOUR HOST
Your database. Your data. You decide.
Cloud Database
Suits multi-location businesses
Self-Hosted Database
Your own internal network
On-Machine Database
Run on the counter-top
WEB REPORTING
For those who want instant web access to live and real-time uniCenta oPOS data. Host in the Cloud or on-premise.
(Not included in uniCenta oPOS download. Additional module.)
---
Dashboard
Web reporting in the Cloud or on-premise.
Uses the top web CMS  platform and a plug-in.
Highlights
Instant view of your business
Focus on business performance
Any device with a browser
Uses WordPress
Uses Google Charts
Data tables
more…
---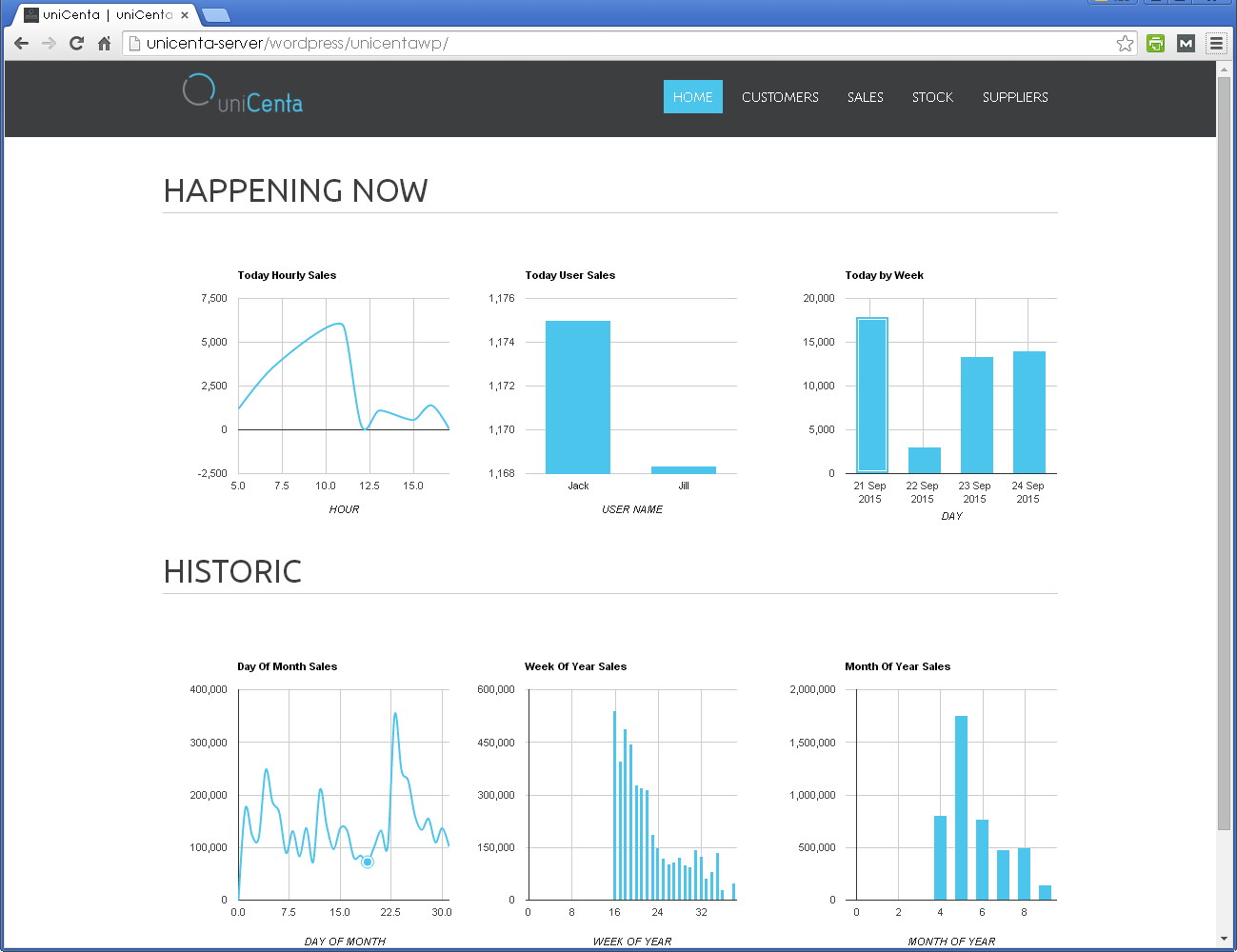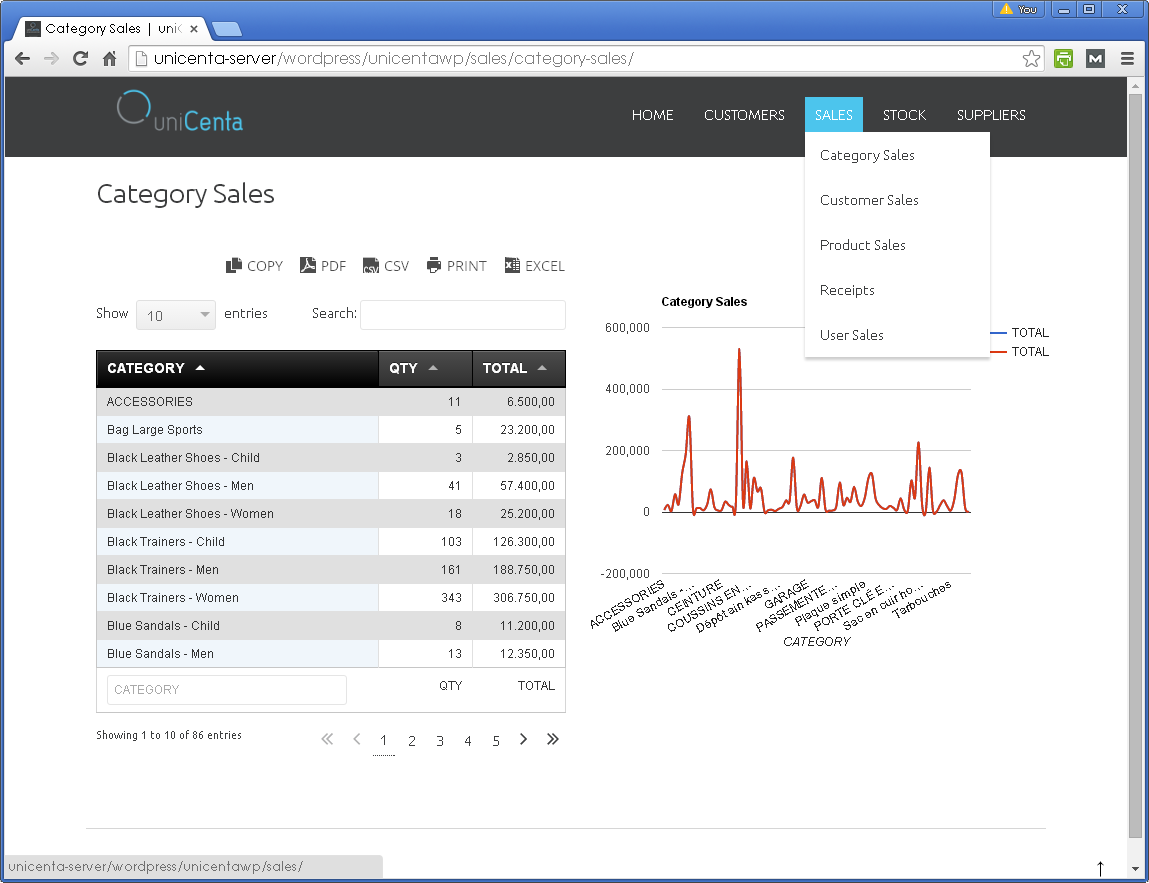 ---
Deep Dive
Get right down into what makes the dashboard charts tick. Direct read-only access to "live" uniCenta oPOS data.
Highlights
Fast
Flexible Filtering
Rapid Sorting
Speedy Searching
Export your data
Add your own reports
more…
Two choices to get uniCenta oPOS
Read why…
---
uniCenta oPOS v4 series extends previous versions and available to uniCenta customers only.
Read what we want to achieve by offering a fee paying customer service.
uniCenta customers enjoy exclusive benefits like:
Customer only forums
Regular updates and fixes
Discounts on "live" ad-hoc support
Exclusive Plug-ins
uniCenta oPOS v4.1 is free (read what free means GNU GPL3) and open source.
Want to go it alone? Try the latest uniCenta oPOS 3.9 version
You can evaluate 3.9 then upgrade later if you want. If you find 3.9 does what you need. Keep it. Use it. It's totally free and won't cost you a penny… Ever!
There are no Product, Customer, User or Sales ticket limits. No nag screens… no limitations… Nothing. It's totally un-restricted.
Enjoy!
Register to become a Customer and get uniCenta oPOS 4.1 plus benefits
Sign up
Go to our Community site and get the latest uniCenta oPOS 3.9 series version
Download v3.9