I came across your amazing piece of POS software. I've been looking for something that is free and available on a Mac, but just works great. I was so happy when I found your system.

Konkurrierende mit bezahlten für Systeme, erfüllt diese wunderbare Anwendung meine Anforderungen und ermöglicht Anpassbarkeit, dass die meisten für diejenigen gezahlt fehlt.

First of all, thank you for making this program. This will actually save the company I'm working for at least 18000(!!) euro's if we instead use a system based on exact. That's a very big plus!

Amazing features for a free POS system.
Works great and pretty fast.
It's just wonderful!

Anon, Sourceforge downloader

I use uniCenta on Ubuntu for an Ice Cream Truck. This is the best after looking at numerous pos software, nothing compares. This software will work in almost all situations.

Anon, Sourceforge downloader

I've been so pleased with this software. I've been using it for over a year now and when I recently ran an update and had a few problems the support from uniCenta was great.

I was looking for a good open source pos. I read many blog posts and many of them recommended uniCenta. I've download and hope to love it like the reviewers. I just thought it cool to say thank you in advance.

I am the person responsible for the implementation of the uniCenta oPOS for a bar in Halifax, Nova Scotia. I love your work. uniCenta oPOS is a great piece of software.

Brilliant software, complete customisation. It's designed to be run on all sorts of hardware, it can be fiddly but thats just because its such a flexible solution.

Having worked in the POS industry for a long time,
this is an extremely useful
and agile little POS system.

Well, The problem here is that uniCenta touts itself as being highly customizable. Well, In order to customize uniCenta, you have to alter the source code… this guy didn't seem to like us very much!
Retail
Amusement Park to Zoo Gift Shop.
Hook-up uniCenta oPOS to a Barcode Scanner (Weighing Scales supported too) and you're good to go.  Run stand-alone through to a multi-terminal, multi-warehouse, multi-location installation. Oh, nearly forgot… it's multi-lingual too.
Hospitality
Cafes, Bars, Restaurants. You name it.
Claiming that uniCenta oPOS competes with expensive fine-dining POS systems would be foolish yet we do have the basics more than well covered. Included are the likes of Modifiers, Table Management (with Reservations) and Kitchen printing.

Mixed
Deli' with a Cafe?
uniCenta oPOS works great in mixed-use environments like this. No need to struggle getting one POS to do two different jobs or the need to run separate systems any more. Access, share, control and report on the same data.
Popular
In use all around the world.
With over 130,000 recorded downloads in 2013 uniCenta oPOS is a favourite for a wide-range of businesses not only because it's free to download free to use and free to own, and available in 15 languages, but because of its ease of use and exceptional flexibility.
Fast install
Up & running in minutes.
uniCenta oPOS comes with it's own built-in database or you can hook into one of the popular commercial-grade open source databases it's compatible with. Industry standard POS hardware and protocols from the likes of Epson, Citizen and Scanpal come as standard.

Plug In
We're not ordinary. Mix it with Big.
Synchronize data between stores, HO and even eCommerce sites with our uniCenta sync plugin app' – coming soon – as are certified Card Payment Gateways from leading providers; popular social media plugins and our very own Digital Receipt.
Supported
We all love free. Who doesn't.
Get support in our self-serve Community forum or something more repsonsive with one of our commercial ad-hoc or monthly subscription support plans. If you need development we can do that too Get in touch we'll be happy to hear from you.
Looks good
With three screen types available to choose from straight out of the box;
Simple
– ideal for stores with fast-moving checkouts;
Standard
– all features switched on; and
Restaurant
– table management and reservations included; along with 38 different skins – some serious and some just downright zany – uniCenta oPOS performs and looks great on Windows, Linux and Mac OSX whether you have a Touchscreen or not. Support for industry standard hardware and protocols as well as for commercial-grade databases is included as standard;
Apache Derby
;
HSQLDB
;
MySQL
;
Oracle Express
and
PostrgreSQL
. You can even host your database in the Cloud with the likes of Amazon.
Award winning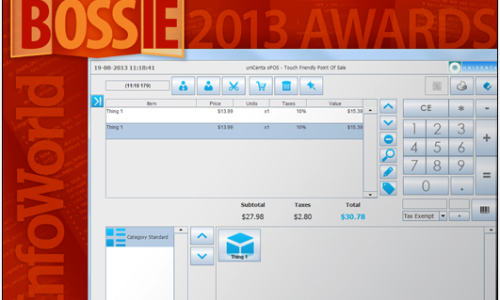 Every software publisher will tell you their application is the best – quite right too – and we're no different though we much prefer uniCenta oPOS users to do that for us, and they have in their hundreds. Receiving recognition for our effort, and we have from hundreds of uniCenta oPOS users,  is always great so when it comes from a respected publication like
InfoWorld
in the shape of a
Bossie Best Applications Award
. Looks like we're in the mix with some quite well known, established and esteemed companies which makes receiving the award even more of a pleasure to receive. Going to try hard and get another one again in 2014!
Customer of the Month
The Blue Door London is a traditional and unique gift shop located in the very heart of the world's most famous street market. It has an amazing product range running into hundreds and hundreds of contempary, vintage and antique gifts.
Partner of the Month
SuePos is a Manchester, UK based refurbished POS hardware reseller, and one of eBay's Top-rated sellers, who has been bundling uniCenta oPOS even before we got know each other